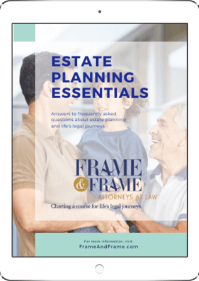 Over 65 Years of Estate Planning Experience
Serving Annapolis, Pasadena, Frederick, and Stevensville
For over 65 years, the experienced Maryland Estate Planning Attorneys at Frame & Frame have been serving the legal needs of our community.  Estate planning is a very personal matter.  It not only affects you and your loved ones, but perhaps your legacy and future generations.  For these reasons, the Maryland estate planning lawyers at Frame & Frame can help you carefully consider the importance of having a will or estate plan that is structured for your specific needs.
Get Started Today!
Estate planning does not have to be an expensive or complicated process.  For about the cost of a weekend getaway, most families can have the peace of mind and assurance that their needs will be handled, in the event of a crisis.   Get started by downloading one of our free legal guides or scheduling a consultation.
Do You Need a Will or Trust?
A will or trust is important for everyone – regardless of age, marital status, financial status, in good or poor health with the legal documents they need to protect themselves and their loved ones, because accidents and unexpected illnesses can happen to anyone.
Many people do not understand the difference between a Will and a Trust, or unknowingly, may think that one costs substantially more than another. The most common misconception is that a trust is only for wealth families.  However, there are many instances where a trust can better serve your needs, while you are living, and after you pass.  The Maryland estate planning attorneys at Frame & Frame discuss your specific situation and make recommendations on which tools would best serve your unique needs.
Although a will can serve some needs, the estate planning attorneys at Frame & Frame Attorneys at Law are able to help you consider a wider variety of possibilities that may arise and ensure your wishes are carried out, in the event of incapacitation or death.  Our attorneys will help you understand the difference between a will and a trust and determine which legal instrument will best serve your needs.  We can also help you avoid some of the most common estate planning mistakes.
Top 10 Questions About Estate Planning
Your attorney will serve as your legal guide and trusted advisor to answer all of your questions.  In addition, we have a list of the Top 10 questions about estate planning, along with an entire video library you can review, at your leisure, to get answers to your estate planning questions.  View the video to get answers to the most common#estate-planning-faqs questions about estate planning.
A Wide Array of Estate Planning Services
At the law firm of Frame & Frame, our dedicated Maryland Estate Planning Attorney advocates regularly assist clients in Maryland with a wide variety of estate planning needs. As a matter of fact, our firm received the "Maryland Attorney Advocate of the Year" award for these services.  We assist with a wide array of estate planning services as you can see and we offer our free legal guide to Estate Planning Essentials as a great way to educate yourself and begin the conversations with loved ones, before executing a will or estate plan.
Easy Estate Planning Process
Since we have been providing estate planning services for over 65 years, we know how to make estate planning easy for you and your family with our customized Easy Estate Planning 4-Step Process.  In addition, we also offer an easy way to keep your family informed with our proprietary ePlan365 tool which utilizes the latest secure HIPAA-compliant technology to provide your family with the documents and resources they need, in any crisis.
Basic Estate Planning
A very basic estate plan provides important legal documents for your family, in the event of your incapacitation, sudden illness, or even death.  These documents allow you to control the distribution of your assets, who will administer your estate, and who will care for your children and their inheritance. You place your assets, your children, and your family at risk without proper planning. The Maryland Estate Planning Attorneys at Frame & Frame help you create a plan that will protect and provide for your loved ones.
It's important to have, at the very least, the basic estate planning documents to protect you, and to help your family and heirs manage your affairs in the event of your illness, hospitalization, incapacitation, or death. Our basic estate planning services provide you:
Last Will & Testament or Trust
Healthcare Power of Attorney
Financial Power of Attorney
Advanced Directive/Living Will
In Maryland, there can be serious consequences if you become incapacitated or die without a will.  Here are some examples:
If you are incapacitated, your loved ones will require certain documentation to act on your behalf for financial matters,
If medical decisions need to be made, Health Care Powers of Attorney ensures that your wishes are carried out and to help give your loved ones some direction when making important medical decisions to take the weight off their shoulders.
After your death, the probate process, taxes, and other factors may absorb much of the inheritance you hoped to pass on to loved ones.
Your Estate Planning Consultation
During your initial estate planning consultation, you will personally meet with one of our experienced lawyers who focus on estate planning,  to discuss the best options for you and your unique situation.  This personalized approach provides you valuable legal guidance and allows your family to have a trusted advisor, during a crisis.  During the estate planning process, we can provide guidance on any of the following:
Drafting a will
Developing a healthcare power of attorney
Developing a durable (financial) power of attorney
Creating a living will
Asset protection
Medicaid planning
Creating revocable living trusts
Creating irrevocable trusts
Creating special needs trusts
Estate administration
Probate
Special Circumstances for Estate Planning
There are also specific circumstances, based on your unique situation, which make estate planning even more important.  In these cases, your lawyer can help you determine which legal instrument is best for your unique situation.  Our Free Guide to Estate Planning discusses the special circumstances that may need to be considered for:
Families with Children
Blended Families
Families with Special Needs
Families with Substantial Wealth
Single People & Unmarried Families
LGBTQ Families
Estate Planning, Probate, and Maryland Taxes
It is particularly important for Maryland residents to understand Probate and its impact on estate planning since Maryland has both an estate tax and an inheritance tax. Why does this matter? In brief, many other states simply tax based on either system as opposed to both.  For this reason, Maryland residents must consider the probate process, their exposure (and that of his/her relatives) to taxation through estate and inheritance, and any legal strategies to reduce exposure.
If you are planning to leave assets to your family members and to organizations that you support, you may also need help learning about ways to minimize liabilities under these two systems of taxation.  The Maryland estate planning attorneys at Frame & Frame can evaluate your situation to assist in creating strategies that will help.  In addition, if you lose a loved one, our probate attorneys can help you navigate the complex probate process.
Long Term Care & Medicaid Planning
Long-term care planning or Medicaid planning is not the same as estate planning. Does your estate plan protect your assets from the substantial costs of long-term care?  Is your legacy and children's inheritance at risk?  Will your spouse be properly cared for, or will your assets be subject to government restrictions?  Your estate plan should include a strategy for long-term care and only an experienced elder law attorney can assist you with these considerations.  Download the free legal guide to Long Term Care planning.
Unfortunately, many people think that if they've done an estate plan, they have covered long-term care or Medicaid planning issues.  Nothing could be further from the truth!  Long-term care or Medicaid planning is not estate planning and only an experienced Elder Law attorney can properly guide you through the pros/cons of why you may or may not need Medicaid planning, in addition to an estate plan.  The attorneys at Frame & Frame are also experienced in Elder Law, so we can advise you simultaneously on the important considerations that may impact your estate plan and long term care strategies.
Trusts and Other Estate Planning Matters
There are many types of trusts that can be created to serve your unique needs.  Trusts are comprehensive, may provide tax benefits, help you avoid the probate process and are not just for wealthy families.  In fact, many younger families benefit from a trust, much more so than a simple will.  With minors, in particular, the needs of your children must be considered during the estate planning process to determine if a will or trust would better serve your family's needs.
In some cases, individuals have children with special needs for whom they will have to set up a particular type of trust. In other situations, a Maryland resident may want to establish a trust to help children and other family members to pay for college or other necessary educational expenses.
Given that there are many different kinds of trusts, it is important to seek advice from an estate planning lawyer. You will also want to ensure that if you establish a trust, it is funded and revisited, as life changes over the years.  Our Maryland estate planning attorneys can help you evaluate the best options for your situation and take the weight off your shoulders.
ePlan365™ puts the Plan In Your Hand™
If an unexpected crisis or tragedy occurs, your loved ones will be focused on solving the challenges, making decisions, and dealing with the family's emotions.  There will likely be many questions and decisions to be made, depending upon the circumstances.  The biggest question of all… "What's the plan?"
At Frame & Frame, we've helped people, for over 65 years, face the challenges and questions that arise.  We have seen families struggle to locate important health care or legal documents, argue over the intentions or wishes of a loved one, and try to access financial accounts to continue to pay mortgages and other bills. That is why we have invested in technology that makes all of this easier on you and your family.
Today, we are one of the only estate planning firms that offer our clients a proprietary platform so that every decision, document, and resource is available to your loved ones instantly.  You can pre-determine when and how the documents are accessible, based on the crisis, events, or circumstances.  Our ePlan365™ puts the Plan in Your Hand™.  Learn more about this unique service we provide exclusively to our clients.
Get Started Today!
Estate planning does not have to be an expensive or complicated process.  For about the cost of a weekend getaway, most families can have peace of mind and assurance that their needs will be handled, according to their wishes.   In addition, our Maryland estate planning attorneys serve as a legal guide to help your family navigate the legal, healthcare, and probate issues that may surround any crisis.  Get started by downloading free legal guides or scheduling a consultation.
Contact an Experienced Maryland Estate Planning Attorney
Meeting with an estate planning attorney can help you and your family plan for the future.  Contact Frame & Frame today to learn more about how we can help with serve as your legal guide for thoughtful planning or during times of crisis.
A Law Firm for all of your family's legal needs