For Over 65 Years, We Have Served the Legal Needs of Our Local Community
Serving Annapolis, Pasadena, Frederick, and Stevensville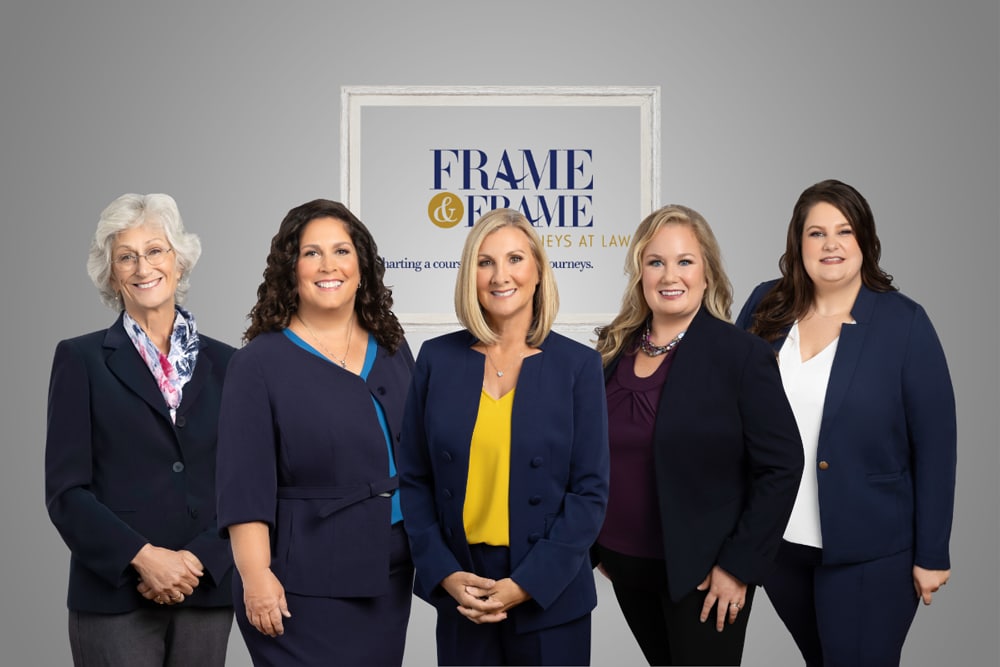 For over 65 years, Frame & Frame Attorneys at Law has been serving the legal needs of our community. We provide services, often to several generations of the same family, for thoughtful planning and during times of crises. We are proud to serve as your family's lawyer and trusted advisor. Our team of estate planning attorneys in Maryland have received numerous awards and recognition for their service to our community. The relationships we develop often last a lifetime because we are entrusted to serve you and your family now, and for generations to come. We provide legal guidance in these core areas of service:
Our experienced team of Maryland attorneys will meet with you personally to discuss your case and understand your unique needs. Our compassionate approach provides you sound legal guidance and solutions to take the weight off your shoulders.
Legal Services We Provide
Charting a Course for Life's Legal Journeys
By serving as your family's lawyer and trusted advisor, the estate planning attorneys at Frame & Frame can help protect you and your family, at every stage of life.  Today's families are diverse and require thoughtful planning such as:
Maryland Wills for Younger Family Members
The joy of youth brings a level of "invincibility", but accidents, illness and other events can befall us all.  They may need assistance with:
Ensuring their wishes are clearly outlined and that family members have the proper documentation and authority to make medical decisions on their behalf.
Legal documentation and access for bank accounts, mortgage, or other financial responsibilities that must be taken care of, during a crisis.
Young families with children often fail to consider the importance of legally documenting their wishes.
Trusts for Families with Special Needs
One of the biggest mistakes, that happens all too often, is leaving an inheritance to a family member with special needs.  This one act of kindness can actually do more harm than good and impact the special needs family member and their eligibility for important programs.
Estate Planning for 40 & 50 Somethings
The sandwich generation, as it is often referred to, is often caring for senior family members as well as younger family members, in addition to their own needs which may include:
Structuring assets to preserve a legacy to pass onto their children with minimal tax implications and probate.
Assisting blended families with estate planning to ensure all members of the family are taken into consideration, in the event of a health crisis or death.
Planning for future long term care requirements and ensuring that the spouse and children's inheritance is protected from the exorbitant monthly costs of long term care.
Long Term Care and Probate for Senior Family Members
As we grow older, we require more guidance and care from members of our family and from our trusted legal advisors.  Our elder law attorneys are adept at handling:
Long term care options
Medicaid eligibility and the 5 year look back requirement
Asset protection
Legal guardianships
Probate and estate administration
Our
ePlan365™

Gives You The Plan in Your Hand™

At Frame & Frame, we've helped people, for over 65 years, face the challenges and questions that arise and plan for any eventuality. Today, we are one of the only estate planning firms that offers our clients a proprietary platform so that every decision, document, and resource is available to your loved ones instantly. Our ePlan365™ gives you the Plan in Your HandTM.
After 15+ years of marriage and children, my husband and I decided it was time to update our wills, healthcare proxies, etc. I decided to make an appointment for a consultation after reading rave reviews on Google. Our initial meeting with Tara was fantastic! She reviewed our information, gave us her recommendations, and patiently answered a litany of questions…we really appreciated the transparency. She was there every step of the way, answering even more questions, filling out forms, etc. Overall, it was a wonderful experience and we plan to have Tara (and her team) oversee our Estate plans well into the future.
C. Jones
---
A Law Firm for all of your family's legal needs